About Us: History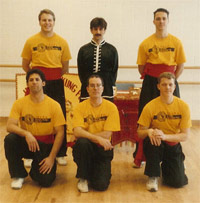 Shaolin Hung Mei first opened its Kung Fu program in February of 1993 holding classes at the East Boulder Community Center in Boulder, Colorado. Shifu Solow, who had relocated to Boulder in 1992, would use the Aerobics Room to train and was often watched by one of the Community Center employees, Lance Melting. Finally, in November of 2002, Lance asked Shifu whether he could become a student. Shifu actually said "No", but fortunately, Lance was very persistent. Finally, in February of the following year, Shifu agreed to teach Lance with the caveat that he needed at least two students to start. Lance promptly enlisted his brother-in-law, Jason Lathrop, and a new branch of Hung Mei was founded.
The organization grew quickly and began to dream of having its own center for the promotion of authentic Chinese arts. However, in those early days, the students paid no fees and the path to such a center was difficult to see.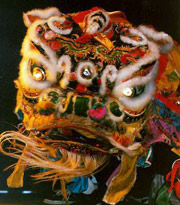 In late 1994, SHMKF purchased its first Lion and began performing during Chinese New Year, 1995. The public's interest in the Lion Dance and Kung Fu demonstrations was surprising. Soon, the organization was demonstrating year round. The revenue realized through these events was reinvested into the School and, after 9 ½ years of saving, SHMKF felt it was ready to search for its first home.

As most of you know, the cost for commercial real estate in Boulder was not inexpensive and SHMKF needed a large space to conduct its activities. Fortunately, they happened upon a vacant truck repair shop – that's right… a truck repair shop covered with residual oil and in dire need of renovation. Going from an organization that charged no fees to renting an almost 5,000 square foot facility in the middle of Boulder was a frightening proposition. The organization took a chance, "signed on the dotted line" and went to work. The facility was in such poor condition that they had to use a sand blast machine that was so large that it had to be towed in with a pickup truck to sand blast the concrete floor removing the oils.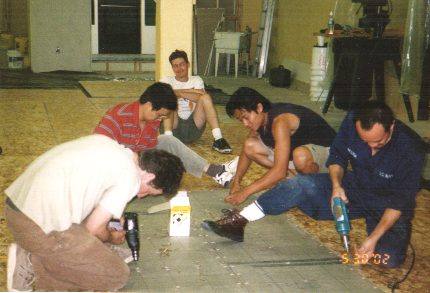 All of the students chipped in resealing the floor; rebuilding, texturing and painting the walls; designing, fabricating and installing a shock absorbing wood floor; building a conference room; moving stair cases; and much, much more, all of the time being mindful of establishing an environment that was specifically suited for the teaching and practice of traditional Chinese arts. Several truly auspicious things occurred during the renovations. The company the Shifu Solow was working for was closing and was trying to sell off its assets including a beautiful set of conference room furniture. On the day before closing, Shifu asked the then President of the company whether he could take the furniture as it had not been purchased. Since the lock was going on the door the next day anyway, the President agreed! Shifu immediately called one of the senior students, Bert Cashman, who had been staged with his flat bed trailer to come get the furniture before anyone could change his mind.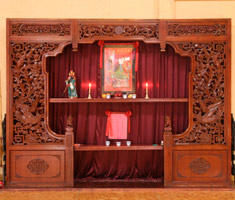 About the same time, Shifu had occasion to be speaking with the owner of the Imperial and Palace Restaurants in Denver, Mr. John Hsu, and told him of SHMKF's plans to open a center for the promotion of Chinese culture. Mr. Hsu, an "Asian Philanthropist of the Year" award winner, graciously told Shifu that he may have "a few things" that the center could use. A few weeks later, the group had access to a truck rented to carry their equipment to a performance so Shifu suggested that they visit Mr. Hsu's warehouse – good thing they took the truck. Imagine a 17 foot U-Haul filled top to bottom and front to back with beautiful, carved wood panels, reception counter and a list of other things too long to include. The Association used Mr. Hsu's generous gift to fabricate everything from a shrine to pay respect to past Teachers to sliding doors separating reception from the training area.
The members of SHMKF knew they had made the right decision and, finally, in June of 2002, the Academy of Chinese Martial and Cultural Arts opened its doors holding classes for the first time.